TEAM
Our Experts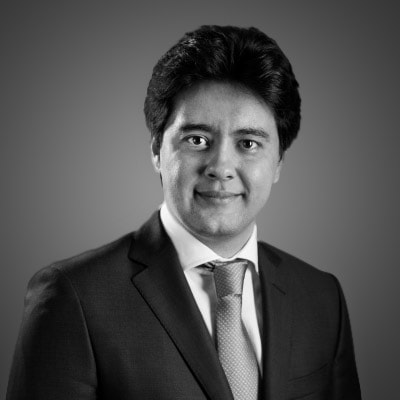 PRACTICES
Trademarks, Advertising Slogans, Trade Names
& Appellations of Origin
Copyrights &
Related Rights
Domain Names
Anti- Counterfeiting,
Anti-Piracy & Enforcement
Litigation,
Alternative Dispute Resolution
PROFILE
Mr. Romero, Jr., with ample experience in Intellectual Property Law, serves as a head and coordinator of the International Trademarks Department in which he takes responsibility for all types of trademark-related issues, including searches, registration, renewals, prosecution, mergers and acquisitions, agreements of use, licensing, exploitation, enforcement and defense of trademarks, service marks, trade names, slogans, and appellations of origin.
He currently coordinates and leads a group of lawyers working to protect and defend trademarks, domain names and copyrights, and argues challenges such as official actions and provisional refusals. He responds and institutes nullity and cancellation actions before the Mexican Institute of Industrial Property and Federal Courts, anti-counterfeiting/piracy actions and unfair competition; in general, he is involved in all kind of strategies related to IP matters, and diligently counsels clients with quality attention and communication.
He assumes a leadership role as a coordinator partner, managing both staff and junior lawyers (interns).
An attorney since 2005, Mr. Romero, Jr. was with ROMEROIP from 2000 to 2008 and again from 2011 to the present. He has been a Partner since 2007. He worked as an attorney at one of the major Mexican IP law firm, from 2010 to 2011.
EDUCATION
Universidad La Salle (Law degree, 2005)
University of Toronto (Business Law, 2009)
Universidad Panamericana (Industrial and Intellectual Property Specialty, 2012)
Universidad Panamericana (Privacy and Protection. Processing of Personal Data in Mexico, 2016)
EXPERIENCE
Automotive
Banking & Insurance
Chemicals & Pharmaceuticals
Clothing & Jewelry
Construction & Real State
Cosmetics & Perfumery
Education, Sports & Entertainment
Food & Beverages
Hotels, Restaurants & Tourism
Household Products
Machinery
Oil, Gas & Energy
Technology & Electronics
Telecommunications
MEMBERSHIPS & AFFILIATIONS
American Intellectual Property Law Association (AIPLA)
Mexican Association for the Protection of Intellectual Property (AMPPI)
Asian Patent Attorneys Association (APAA)
International Trademark Association (INTA)